About
General
MetaNow is an utility Application to assist you while watching a Movie or TV Show on your Computer, is it in a supported Video Player or simply in your Browser. It attempts to provide extended Informations about the currently playing Movie, its Cast, Trailers & more.

And if you are watching a TV Show Episode, you can get instant descriptions about this Episode, its Title and even its guest Stars if available

MetaNow 2 appears as a sliding out sidebar on the left side of the Screen providing all its Informations in Sections, so you are seeing only the Section you are interested it, starting with a general Overview, additionally, you can choose to use the classic whole Screen Overlay that has support for iTunes and Hot Corner Activation but it is deprecated and no longer in development.

While MetaNow uses just the Space you asked for, you can still keep watching or listening to the Content without pausing if you like to.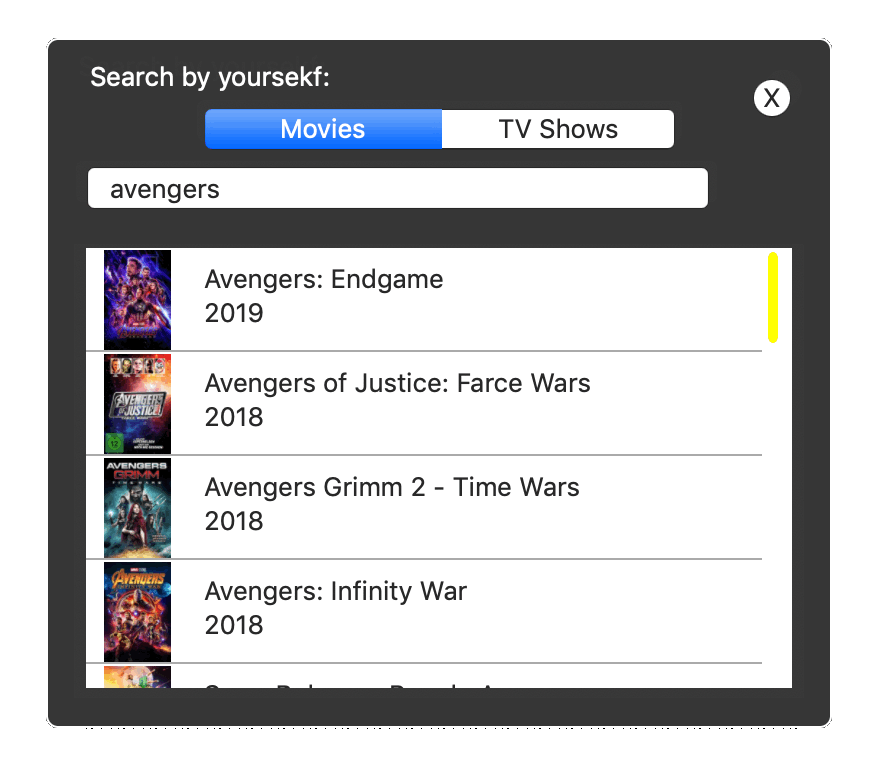 Behaviour & Usage
MetaNow 2 slides out fro the left side of the Screen once activated and just automatically into the general Info Section, it is designed to be either navigated with your Mouse of Keyboard, use the Arrow Keys to navigate, the Enter Key to select, the Back or ESC Key to return to main list or to dismiss current Info Panel.

If you are watching a Related Links Section like Wikipedia,you can click any link, to navigate back and froth, simply swipe left or right on your Magic Mouse or Trackpad.

MetaNow, once activated attempts to detect the currently playing Video by its Title to know if it is ether a Movie or TV Show and starts looking it up automatically, but while it might get the wrong Result at first time, it provides a manual search at the top left corner, that will auto populate with Alternative Results, e.g. if you lookup Avatar, there might be not just the Result from 2009 but also all the other Releases up to 2027, so choose one, click it and MetaNow will display the selected Result.

If MetaNow fails to get any starting Information or fails to find a Movie based on its title, it will auto display the search panel as short-cut.



Also, if you activate MetaNow from an unsupported Player, MetaNow will start with the currently used Window Title, this should work for most Players, if it doesn't, there will always be a fallback to the manual Search, the only requirement is that this Video is played in Fullscreen Mode, for any other cases, MetaNow will start with the manual Search Panel, this is handy if you want to lookup a Title from Scratch without the need to play a video first, like getting Movie Informations just for informative purposes.

MetaNow can be activated either by a fixed Shortcut: CMD + OPT+ M or simply by hitting the Eject Key (needs to be enabled from the Setting Panel).

Especially the Eject Key is very handy, while useless modern Macs due to lack of a DVD Drive, it is close to the Enter or Back Keys for faster Navigation & Volume control, as usability tip…